| | | | | |
| --- | --- | --- | --- | --- |
| | | Contents The Gallery Past Reunions 2012 Golf Day | | |
---
Old Wymondhamians Golf Day and Reunion
Sprowston Manor July 6th 2012
We held our Golf Day and Reunion at Sprowston Manor again this year. Unfortunately the un-summerlike weather we had experienced during June threatened our golf event. Although it was raining when we teed-off it did eventually, as was forecast, become a pleasant afternoon and evening. The golfers enjoyed the challenge and the weather, as it improved, enabled us to be joined, as in previous years, by the non-golfers at the golf clubhouse as we finished our round of golf.
We assembled in the Suffolk Suite in the evening where we enjoyed the meal and the company. Unfortunately the evening was all too short and it was impossible to spend the time we wished with all the friends we met.
The results of the Golf Event were:-
| | |
| --- | --- |
| Winner | Barry Adkins |
| Longest Drive | Mike Reynolds |
| Nearest the Pin | Aubrey Hammond |
| Award for Greatest Endeavour | Neil Whyte |
A photo of our winner, Barry Adkins, with the Trophy.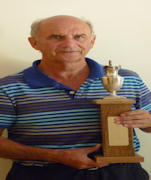 Hopefully we will all meet again next year and the convenient and available day is likely to be July 5th 2013.
My contact details are:-
01629 582229
07710 229126
bob.rowell@virgin.net
Those who attended:
| | |
| --- | --- |
| Barry Adkins | Adrian Osler |
| Janet Adkins | Dorothy Osler |
| Carole Arnold | Tony Pyle |
| John Beales | Ann Pyle (McCafferty) |
| Richard Blowers | Mike Reynolds |
| Muriel Blowers (Currie) | Peter Robertson |
| David Burdett | Bob Rowell |
| Chris Chamberlin | Gerry Rowell |
| Sallie Chamberlin | Maggy Skipp (Smith) |
| Tony Collins | David Spinks |
| Terry Coppin | Sue Spinks |
| Barry Corless | Mervyn Taylor |
| Janet Couperthwaite (Wing) | Joan Thomson (Woodbridge) |
| Barrie Croxford | Heather Turner (Reed) |
| Aubrey Hammond | David Whyte |
| Pat Harvey (Basey) | Alice Whyte |
| Mike Herring | Margery Whyte |
| Jane Herring | Neil Whyte |
| John Kirkland | Bill Wiskin |
| Tony Lake | Anne Wiskin |
| Gerald Livick-Smith | Esme Wyatt (McNulty) |
| Sheila Livick-Smith | Tony Wyatt |
| Geoff Morter | |
| Julia Morter | |
---
Wymondham College Remembered