Canterbury 6th Form - 1964
These two photos show the lads in 'before' and 'after' poses.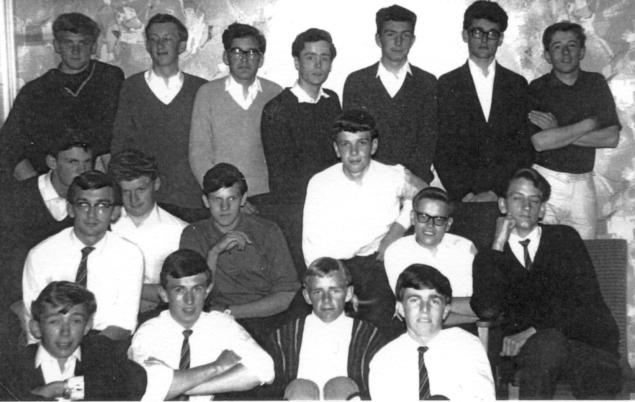 Back: Roger Goodwin, Brian Orford, Kevin Reeve, David Mills, Malcolm Barnham, Tony Hodgkiss, Wiliam Kiddell
Middle: Lee Emerson, George Gawlinski, Malcolm Williamson, Paul Claxton, Roger Lincoln, Ian Kett, Andy Harper
Front: John Elflett, Steve Watts, Martin Seaman, David Riches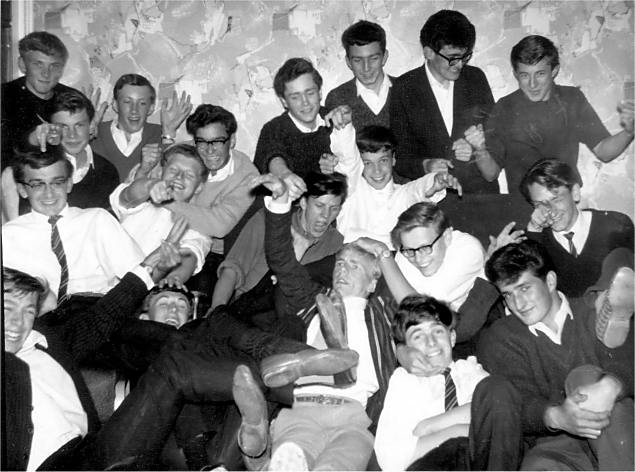 John 'Speedy' Elflett is at bottom left, with George Gawlinski, Lee Emerson and Roger Goodwin immediately above. Next to John is Steve Watts, and above him are Malcolm Williamson and Brian Orford (with his hands up). Above right is Kevin Reeve (holding Malcolm). Martin Seaman is in the striped jacket, with Paul Claxton and David Mills above. Tricky now .... David Riches at front with arms folded, above him is Ian Kett (glasses), then Roger Lincoln (arms outstretched), then (at the back) Malcolm Barnham. At the back with glasses is Tony Hodgkiss. Last three: Graham Winn (bottom right), with Andy Harper and William Kiddell above on the right. Phew!
Contents

The Gallery

Larking About

Canterbury 6th Form 1964