| | | | | |
| --- | --- | --- | --- | --- |
| | | Contents List College History What's Left? | | |
---
Introduction
Nurses' Accommodation
Enlisted Men's Huts
---
Traces of the USAAF hospital still remain on the College site and within the boundary of the farm that lies to the south against Golf Links Road. A few photos were taken on a recent visit to capture the vestiges of our past before they disappear. The *What's* in the title can be 'What is' or 'what was' depending on the speed of so-called progress.
Nurses' Accommodation
10th February 2002
At the southern end of the original hospital site, now outside the College boundary, are four brick huts that once served as nurses' dormitories and bathrooms. This section of the original hospital map has been marked to show the survivors.
52 = Nurses living huts, 53 = Female civilians, 55 = Nurses bath & sanity, P = Plaster board, S = Standard, B = Brick

Cook-freeze unit (on the site of the old boys' changing rooms) is just visible at left. In the hedge right-angle at the top is a second pond (originally a marl pit). There are two railway wagon bodies between the ends of the '52' huts.

As you will see from the following photos, all five huts are built of brick, yet the original plan has one denoted as plasterboard (on a wooden frame). Possible reasons for this difference are discussed below.

Taken from the farm track entrance, looking north. Cavell Hall in the distance.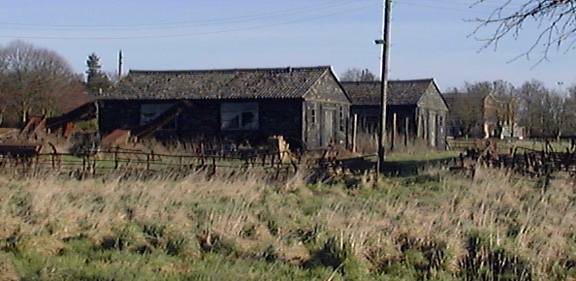 'Standard' construction huts. New Hall in the distance.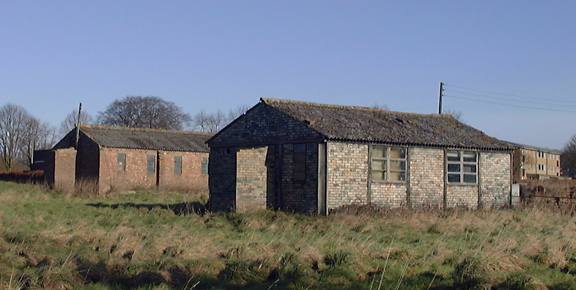 'Brick' hut at left. The hut in the foreground is denoted as being 'plasterboard' on the hospital map, but is clearly brick-built. It may be a difference between 'as planned' and 'as built,' or the original wooden frame might have been bricked in later.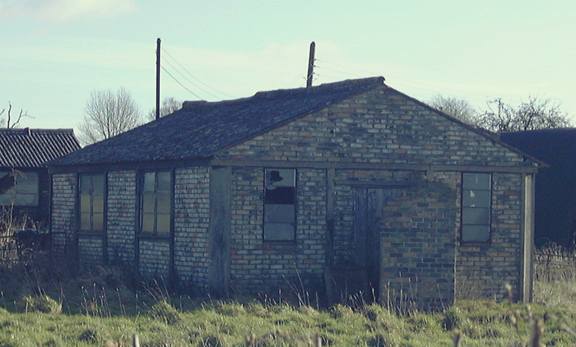 End view of the 'plasterboard' hut (colours distorted to lighten areas in the shade).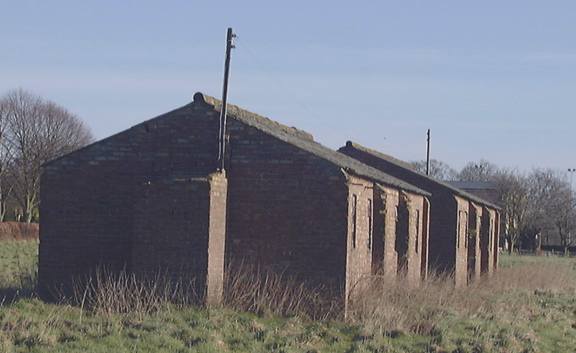 The two '55Bs' - maybe next time I'll take a look inside!
---
Enlisted Men's Huts
10th February 2002
Just to the north of Kett Hall, shielded by a wall of shrubs, are a cluster of huts that now serve as storage for redundant desks and classroom fittings. A nissen hut shell has been added recently and acts as a garage for 2 minibuses.
From ground level, you wouldn't know that these remnants exist.

32 = Sgts ablution & sanity, 33 = Enlisted Men's living hut, 34 = EM ablution, 35 = EM bath hut, 36 = EM latrines. B = brick, P = Plasterboard.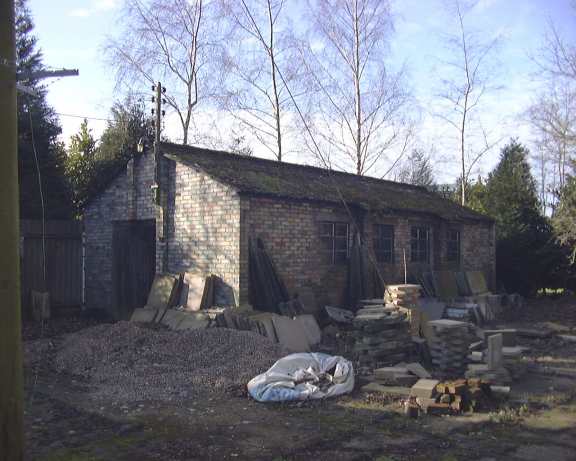 Enlisted Men's Ablutions (34 B). Note the overhead power cables.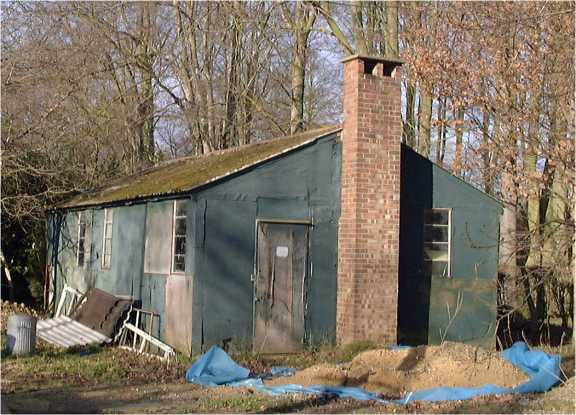 Enlisted Men's living hut (33 P), built of felt over plasterboard on a wooden frame. These huts were used as accommodation for married teachers and their families in the 50s and 60s. This one still has its last layer of wallpaper. Is there an ex-member of staff out there who could make a sketch of the interior layout and/or tell us what life was like in these flimsy buildings?

Is it worth restoring?
Update 6 May 2006: Josh Smith (Kett Yr 10) has written to say "Just thought you might like to know that there was some demolition work taken out during summer last year on the Enlisted Men's Huts round the back of Kett. The old Nissen hut is definitely gone, but I haven't been able to sneak in and see what the damage to the huts is, although I suspect that at least one of them is gone too. I'd be more than willing to have a quick look for you some time, if you want some more info. Keep up the great work on the site, it's really interesting to find out about the history of the College."
---
Wymondham College Remembered